Welcome to europiZe!
Our goal at europiZe is to support you to develop and realise your ideas and projects. At europiZe we will organise and moderate all that is needed to see the development of your visions, strategies and objectives into successful projects and programmes. We will assist you in securing funding from European and National funding programmes. We help you prepare successful grant proposals and provide assistance in project and financial management as well as in project communication.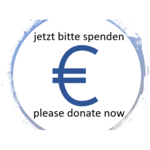 Was für ein Tag und was für ein Ergebnis! In Summe wurden 613 km gelaufen und 1.118 km geradelt, d.h. die 2.000 € Marke wurde geknackt. Wir haben beschlossen die 344 € zusätzlich draufzulegen, sodass 2.344 € "ersportelt" wurden. Außerdem wurden 933 € gespendet. Wir sind sehr glücklich mit dem Ergebnis!
What a day and what a result! In total 613 km were run and 1,118 km cycled, i.e. the 2,000 € mark was broken. We decided to add the 344 €, so that 2.344 € were "saved". Furthermore 933 € were donated. We are very happy with the result!