Welcome to europiZe!
Our goal at europiZe is to support you to develop and realise your ideas and projects. At europiZe we will organise and moderate all that is needed to see the development of your visions, strategies and objectives into successful projects and programmes. We will assist you in securing funding from European and National funding programmes. We help you prepare successful grant proposals and provide assistance in project and financial management as well as in project communication.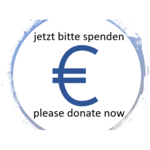 Was für ein Tag und was für ein Ergebnis! In Summe wurden 613 km gelaufen und 1.118 km geradelt, d.h. die 2.000 € Marke wurde geknackt. Wir haben beschlossen die 344 € zusätzlich draufzulegen, sodass 2.344 € "ersportelt" wurden. Außerdem sind bislang schon 863 € auf dem Spendenkonto eingegangen und wir hoffen auf weitere Spenden. Wir sind sehr glücklich mit dem Ergebnis!
What a day and what a result! In total, 613 km were run and 1,118 km cycled, so the € 2,000 mark was broken. We decided to add the € 344, so that € 2,344 is our final sum. In addition, € 863 have already been paid into the donation account and we hope for further donations. We are very happy with the result!
Charity run - You run, europiZe pays!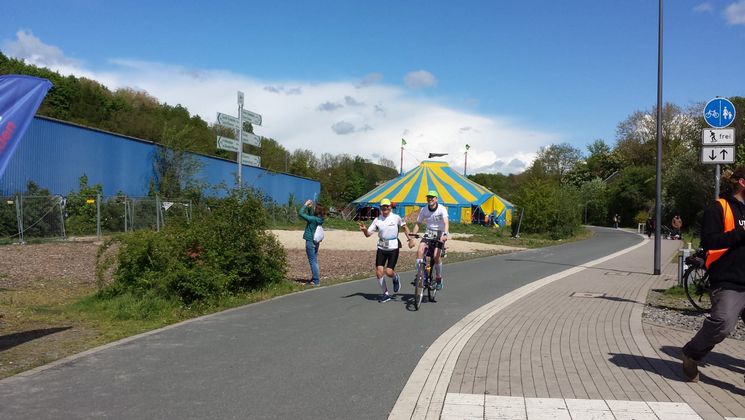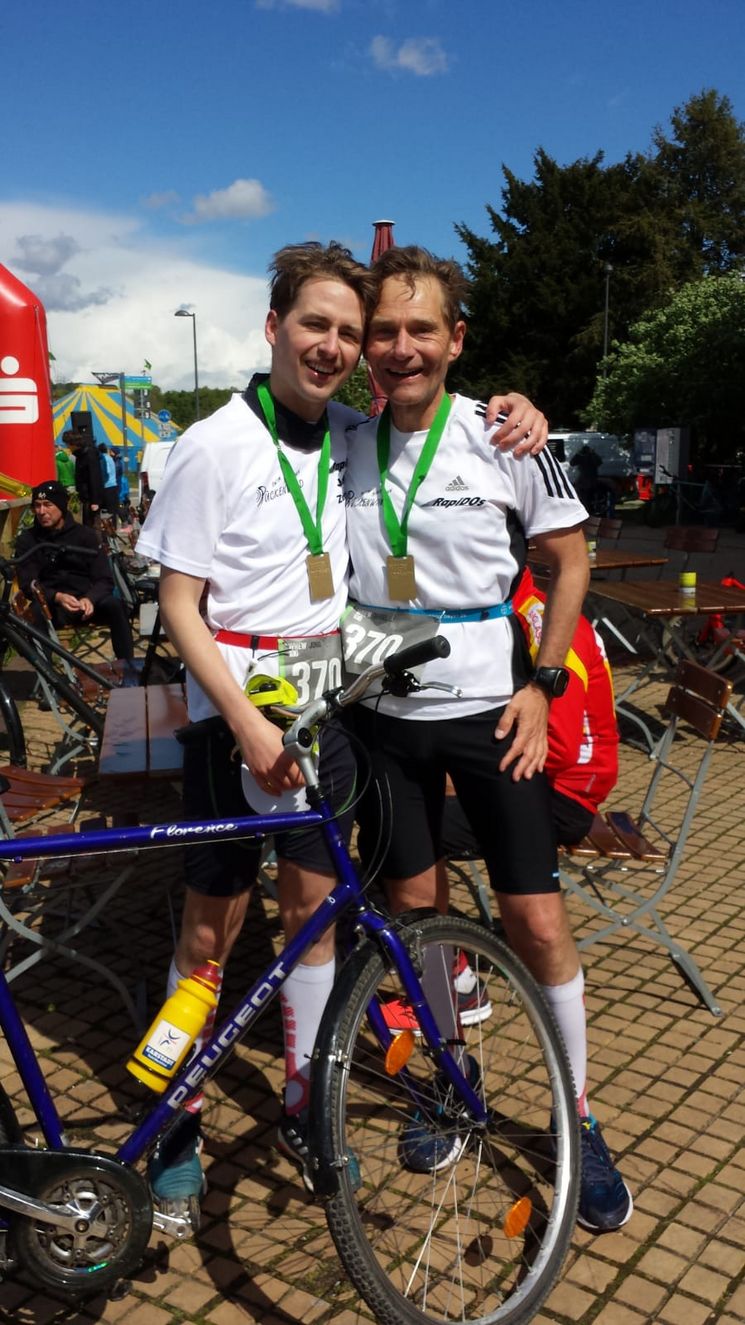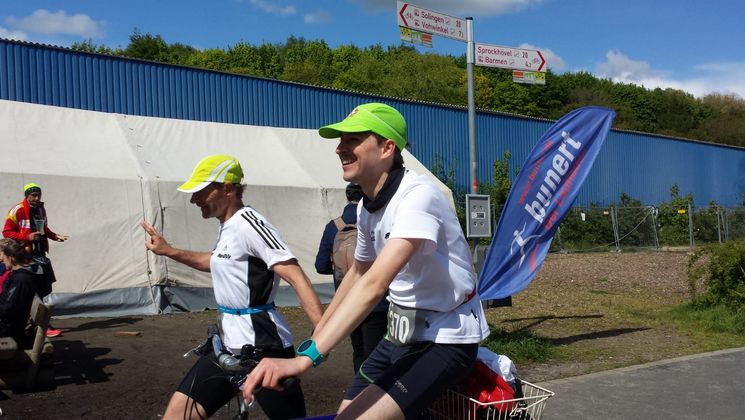 The anticipation was huge, the form curve on a steep path to the top! But then the bitter disappointment: In the middle of our preparation for the great WHEW100 Run and Bike we had to learn about the sad cancellation of this event as well.
The WHEW100 Run and Bike is a two-man event where you and your partner complete 100 km in one go, equipped with a bike. You can change as often as you like. Unfortunately, the proper restrictions on contacts and events imposed by the pandemic have also made it impossible for this superbly organised, highly supported, simply super awesome WHEW100 (like countless other running events) to take place.
Simply cancel the preparation once started? No! And so, during one of the many long training runs, the idea was born that we want to finish the three months of intensive preparation with our own 100km run and bike. We, that is Daniel and Jonas Zerweck, father and son - inherited runner enthusiasm.
Out of the feeling of wanting to have fun not only for ourselves, the idea was born to make a donation run for the WFD Weltfriedensdienst e.V. in Berlin. The WFD supports people all over the world to solve existing conflicts without violence and to improve their living conditions - currently with an emphasis on Gemeinsam stoppen wir Corona im globalen Süden (Together we stop corona in the global south).
You can be part of it!
On Mother's Day, 10 May 2020, our run will take us from Duisburg Central Station across the Ruhr to the S-Bahn station Dortmund-Universität. We will start at 9 a.m., and at 6 p.m. we are expected at the finish.
We're counting on you, too: If you are running or cycling somewhere - preferably close to home - during this period, please send us an email [charity.europize(at)gmx.de] by Monday 11 May 2020 (Midnight CEST), on Instagram or Twitter with your KM performance or send us a screenshot of your mobile phone or GPS watch.
For each KM you ride, europiZe UG donates one euro; for each KM you run, europiZe UG donates two euros - up to a maximum of 2,000 euros. Surely we can manage that together, can't we? On 13 May 2020, the money will flow from us to our fundraising campaign at the Weltfriedensdienst .
And if you want to increase the total amount of donations, then we are of course all the more pleased! On our fundraising campaign at the Weltfriedensdienst (https://wfd.de/meine-spendenaktion/?cfd=npcjv) you can also support our campaign directly, reliably and easily.
Telling the story
Follow us on Instagram and/or Twitter. There we will create our donation story together with you. Follow us on
europiZe.ug when posting!
(@charity.europize) and please use #charity @
europiZe @DanielZerweck @JonasZerweck when posting!
(@CharityEuropize) and please use #charity #
We are also happy about photos of you sent afterwards [charity.europize(at)gmx.de]. It is best to let us know directly if we are allowed to post and use the pictures.
The course in detail
We will conduct our 100km RnB according to the rules of the WHEW100 RnB. Our route leads from Duisburg main station to the mouth of the river Ruhr. From there it continues up the river Ruhr to the northern weir of the Kemnade reservoir. From there we follow the Wittener Eselohren to the Dorneywald and then it's off to the S-Bahn station Dortmund-Universität. Of course we are happy about cheering - with enough distance and lived sneezing and coughing etiquette - at the track.
(km approx.)
10 crossing river Ruhr in Duisburg
20 crossing river Ruhr in Mühlheim
30 Sachsensiedlung/Mühlheim-Mintard
35 Essen-Kettwig (S-Bahn station Essen-Kettwig)
40 Essen-Werden (S-Bahn station Essen-Werden)
50 Restaurant Rote Mühle (just after the underpass A44/street Rotemühle)
56 crossing river Ruhr in Essen-Stehle
62 crossing river Ruhr in Bochum, street Auf dem Stade
70 crossing river Ruhr in Hattingen (close to train station Hattingen)
78 Lower weir Kemnade reservoir
82 Uper weir Kemnade reservoir
90 crossing street Am Leithenhaus/Oesterheidestraße (close to S-Bahn station Langendreer)
94 T-crossing Dünnebecke/Am Zitter (close to S-Bahn station Dortmund-Kley)
95 Turn off Dorney-street straight ahead into the Dorney-forest
We are looking forward to your news and photos, to many kilometres run and a nice Sunday, which will benefit us all!